*Spoilers for Love, Simon, and Simon vs the Homo Sapiens Agenda ahead.*
Okay, okay, but Love, Simon was legitimately the best movie I have never seen in my life. Honestly.
Based on the book Simon vs the Homo Sapiens Agenda by Becky Albertalli (which, in itself, made me cry), this movie is so beautiful. (I'm trying SO hard not to just repeat the phrases 'beautiful", "cute", and "amazing" over and over".) It was so well written and realistic. The feels were there, man.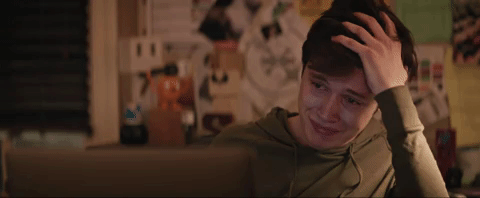 I must have cried, like, seventeen times during that movie.
This movie follows Simon Spier, a high school kid, who has a perfectly normal life. Apart from one thing, the fact that no one knows he's gay. It tells the story of how he started writing anonymous emails to another closeted kid at his school (Blue), who he slowly starts falling in love with. In this process, he is blackmailed, tricked, forced into coming out to everyone, broken, and abandoned by his friends. He is forced to show who he is to the world and finally gets his happy ending. And it's adorable.
The best thing about this movie, to me, is that this character, Simon, is more than just a gay high schooler. That's one of his qualities, and it's a defining characteristic and important part of his life, but it's not the only thing that he is. He has a personality, interests, friends, and hella good taste in music. Nick Robinson really brings him to life, and it's breathtaking. The emotion and love put into Simon and his situation are gorgeously done.
He is beautifully portrayed, and I love that this wasn't just your generic teen romance. It's important to see that being gay isn't a bad thing and that boys can show emotion without the need to scream "NO HOMO" at the top of their lungs. Everyone's different, and the sooner the world realizes it, the better, especially in light of all the hate circulating around members of the LGBT+ community.
"I'm done living in a world where I don't get to be who I am. I deserve a great love story and I want someone to share it with."