10: Cats
Okay, so I saw this musical and coming from someone who'd never seen another musical (other than Mary Poppins when I was five), it was freaking amazing. The lighting was actually amazing, the music was pretty good, and the choreography was awesome.
The basic plot of Cats is just… well… to be honest, there isn't really a plot. And that's my issue with it. It was based on Old Possum's Book of Practical Cats by T. S. Eliot, which was a collection of poems, not a continuous story. This means that the musical is essentially just a collection of songs, follow basically the same plot about the Jellicle Ball. The end is a bit disappointing, and the villain, Macavity doesn't really get his comeuppance at the end. Other than my problems with the plot, it was a good musical, and I love Mr. Mistoffelees, he's amazing.
9: Spamilton
Listen, Spamilton is good. I will never say anything against it. It is written by an extremely talented songwriter who was responsible for Forbidden Broadway, which is like one of my dad's favorite things in the world. But I first heard after being obsessed with Hamilton for six months. And it doesn't compare in my books.
The music for it is actually hilarious though. It basically tells about the making of Hamilton and the life of Lin-Manuel Miranda through the songs of Hamilton. It's essentially, a musical full of extremely well-written Hamilton parodies. It's good. I didn't get to see it though! I really wanted to get tickets, and then it closed! Arghh!!!
8: A New Brain
Groff. Need I say more? I mean, I will but that's not the point. (That's a big cinema in Milton Keynes, but that's not important right now). Anyway, A New Brain is a musical about a musician named Gordon Schwinn, who works writing songs for a kids show. While he's out for dinner with a friend/coworker, he almost passes out and falls face-first into his meal. He goes to the hospital where he takes several tests and is informed that he has been diagnosed with arteriovenous malformation (Which is, according to Wikipedia, "an abnormal connection between arteries and veins, bypassing the capillary system" and can "cause intense pain or bleeding or lead to other serious medical problems"). The musical is basically him dealing with it, and about how he fears dying with his greatest songs still inside him.
Anyway, the music is great, the plot is great, and it's Jonathan Groff, who is literally fabulous. Also the character's gay, which is cool.
7: 21 Chump Street
Another child from the lyrical genius that is Lin-Manuel Miranda. Published on June 7th, 2014, the plot is simple. Honor roll student Justin Laboy is in his senior year at Park Vista Community High School, when he meets Naomi Rodriguez, a transfer student from New York. He is immediately attracted to her, because, according to him, cough cough, and I quote, "She was a light-skinneded Puerto Rican-Dominican— Long hair, mature in the body like whoa…" Unbeknownst to him, Naomi is only "mature" because she is in reality, not a high school student, but a young looking recruit for the Palm Beach police force, who has been assigned to scope out the high school drug dealers in Florida schools as part of a plan called Operation D-Minus.
Basically, she *kinda* manipulates him, he sells her drugs, she has all these texts to prove it, she's got this pot he sold to her, and she arrests him and thirty other students caught selling marijuana. That made me mad, because she tricked an innocent, smart student into sabotaging his entire, probably successful future career. But anyway, the music is amazing, and it stars Anthony Ramos, who is a perfect human being.
6: Dear Evan Hansen
Now, everyone would think this would be like, two or three on the list, but I don't like it as much as some of my other choices. That's literally the only reason. Because I love this play. It's amazing. It tackles really serious issues like identity struggles, suicide, and anxiety in a really amazing, creative, and funny way. Tree Bros is life, by the way. Connor had way to hard a life, as well. I don't think his parents really cared about him, which was one of the reasons he committed suicide.
Also Sincerely, Me is one of my favorite songs from a musical ever. It so funny. Just… listen to it. You'll understand why I love Connor and Evan.
5: In the Heights
This is Lin again, *Hears sighs from my mother in the other room, and talks louder,* and it's really good. It takes place in Washington Heights, on "a street full of foreigners", following the conflicts of bodega owner, Usnavi De La Vega (Lin-Manuel, guys,) and his life, his attempts to go out with his long-time crush, Vanessa. He faces the struggles of being an orphaned immigrant in New York (sound familiar?), and faces everyone he loves moving on from their little street corner to bigger and better things.
Eventually he decides not to return to the Dominican Republic and stay with the people he loves. It's a beautiful story about family, love, and community.
4: 36 Questions
So, this next choice is a podcast musical, which basically means that there's no actual play, they only recorded audio. (You can listen to it on TwoUp, by the way.) It's another Jonathan Groff, and he's actually amazing.
It tells the story of a couple (Judith and Jace) trying to fix their broken marriage using the 36 Questions that Lead to Love, the same thing that made them fall in love in the first place, since the first time, Judith lied, making up an entire new name, past, life, which she continued to use throughout their marriage, because she was ashamed of who she was. Also there's a duck.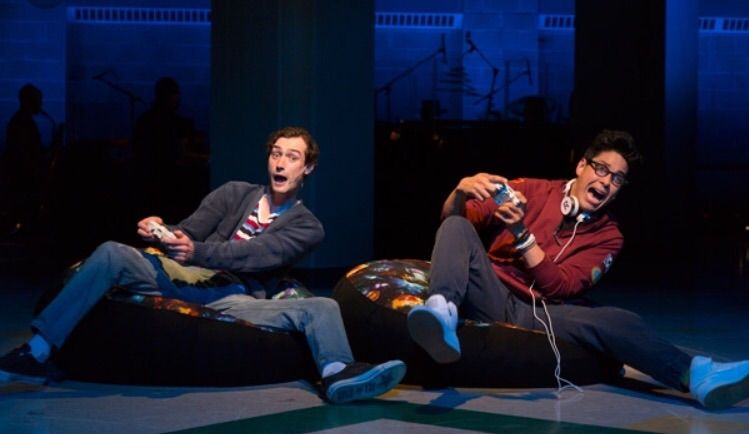 3: Be More Chill
This was an off-Broadway musical focusing on geeky teenager Jeremy Heere, who purchases a SQUIP (super quantum unit intel processor) to make him cool. In the process, he hurts everyone he cares about and leaves his best friend Michael in the dust. Gradually the SQUIP starts controlling every aspect of his life, making him a mean person, finally, attempting to take over the school. Eventually Jeremy conquers it, with the help of Michael, who despite everything Jeremy put him through, comes to his school play and save the day.
Michael is amazing, and must be protected. #MichaelMellProtectionSquad #Boyf riends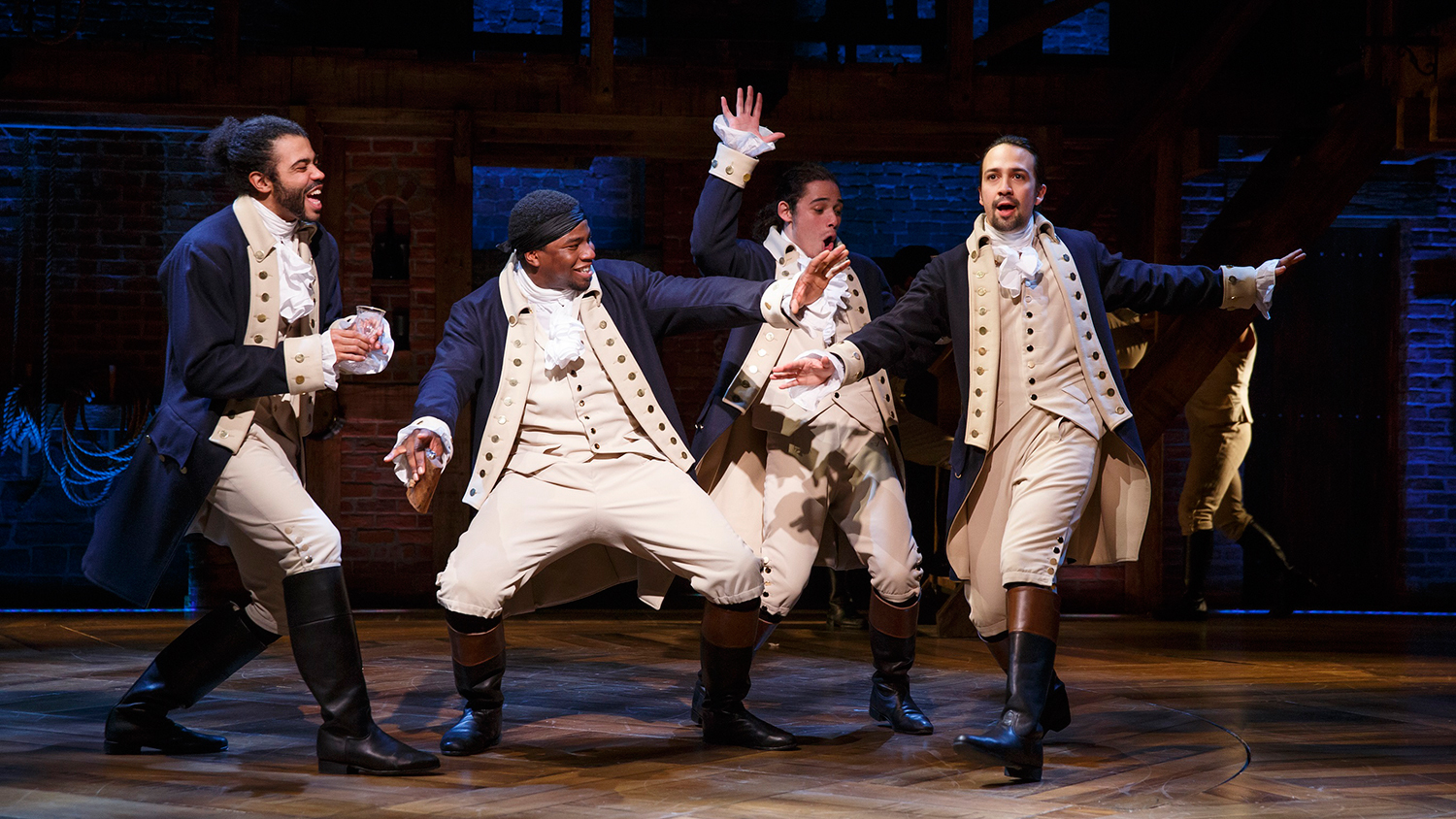 2: Hamilton
Listen, do I really have to explain myself here? It's Hamilton. 
Listen guys, it's actually amazing, and if you haven't heard it, you haven't lived, okay? It's literally pure art, and Lin-Manuel is my spirit animal. He is a perfect, awesome human being. And Hamilton is beautiful.
1: Heathers: The Musical
Okay, everyone was expecting it to be Hamilton, right? Well, recently I got into Heathers and it's legit amazing, okay? Barrett Wilbert Weed is amazing, and so is Ryan McCartan. They all are!
Heathers is about high school senior Veronica Sawyer, who is a considered a nerd by everyone in her school, until she helps the Heathers out of detention, and they make her "Beautiful".  She soon realizes how mean they are when she encounters mysterious Jason Dean in a 7/11. He helps her get revenge on the Heathers and two jock, Kurt and Ram, who are spreading rumors about her. However, his idea of revenge is more about murder and faked suicide than pranks.
She realizes he is wrong, and disarms a bomb he was setting to destroy the school, and he kills himself with another bomb in front of her, telling her to "clean up the mess" he leave behind.
Anyone surprised? Hope you like it, guys, see you soon!